Foliage Plants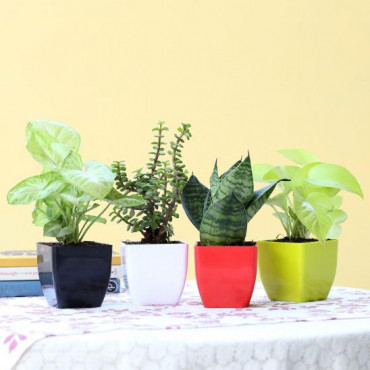 Product Details:Plant Name- Money PlantPlant Type- FoliagePlant Placement- Indoors & OutdoorsPlant Height- Upto 6 inchesRound Glass Vase- 6 inchesHappy Birthday TagMoney Plants Trivia:Money plants are..
Showing 1 to 1 of 1 (1 Pages)
In addition to maintaining humidity and decorating rooms with their splendid colours and graceful shapes, foliage plants india can also purify the air. Let's find out more and how to cure them. Don't worry if you don't have an outdoor green place to dedicate to vegetation. There are a variety of colorful foliage plants to choose from at Gifts Valla. It's occasionally helpful to have the correct information to care for them and ensure a magnificent flowering properly.
Essential rules for foliage plants
Plants only grow well if they are positioned correctly. There is a general rule: the darker the leaves, the less light the plant needs. Variegated species appreciate a very bright location. However, avoid direct sunlight, as it causes the leaves to dry out too quickly and whitens them. By the way, most leafy plants tolerate water shortage better than waterlogging. In addition, from spring until September, the plants benefit from regular fertilising. This offers them greater power and vigour, as well as allows them to develop more lushly. Plants that produce foliage, on the other hand, are sensitive to cold and draughts.
Foliage plants are real all-rounders
Plants aren't just beautiful. They also create visual comfort and are suitable for us. Furthermore, research has proven that foliage plants have a favourable impact on one's health and well-being. They improve concentration and creativity, as well as performance, noise reduction, and mental equilibrium.
High-level foliage plants
Today one thing unites us: the lack of time. No wonder then that easy-to-care-for plants are growing. Here Gifts Valla will tell you which plants have cult potential: Today, one thing unites us: lack of time. No wonder then that easy-to-care-for plants are growing. So let's see some maintenance-free cut foliage plants among which we could easily find the one that's right for us.
Ficus lyrata
The Ficus lyrata from Gifts Valla is a beautiful evergreen shrub very decorative or which only needs a bright environment. Growing Ficus Lyrata in pots is the best way to guarantee the plant the proper care. The pot usually develops with a single stem and large leaves that could lead to a slight curvature with the weight. It is one of the most bought indoor foliage plants. Aglaonema The Aglaonema tolerates the lack of light very well, prefers humid environments and needs constant irrigation in summer. It is available at Gifts Valla. It requires frequent watering, especially during spring and summer. The soil should be moist but not filled with water. You can place a saucer with gravel on the bottom to ensure proper humidity around the plant. Schefflera The Schefflera is a shrubby plant common in offices and homes; it is one of the highly decorative lush foliage plants thanks to the large and beautiful foliage. Being a regular houseplant, the Schefflera must not be put outdoor as it does not like drafts. It favours bright environments but should not be exposed straight to the sun. Summary: Of course, other plants are easy to care for. So, if you do not find any of the above, it is best to seek advice from a specialist shop. They are trendy. There are many scientific reasons for this. But they're just cool, and healthy, and anything but boring. Here is a small hit parade.